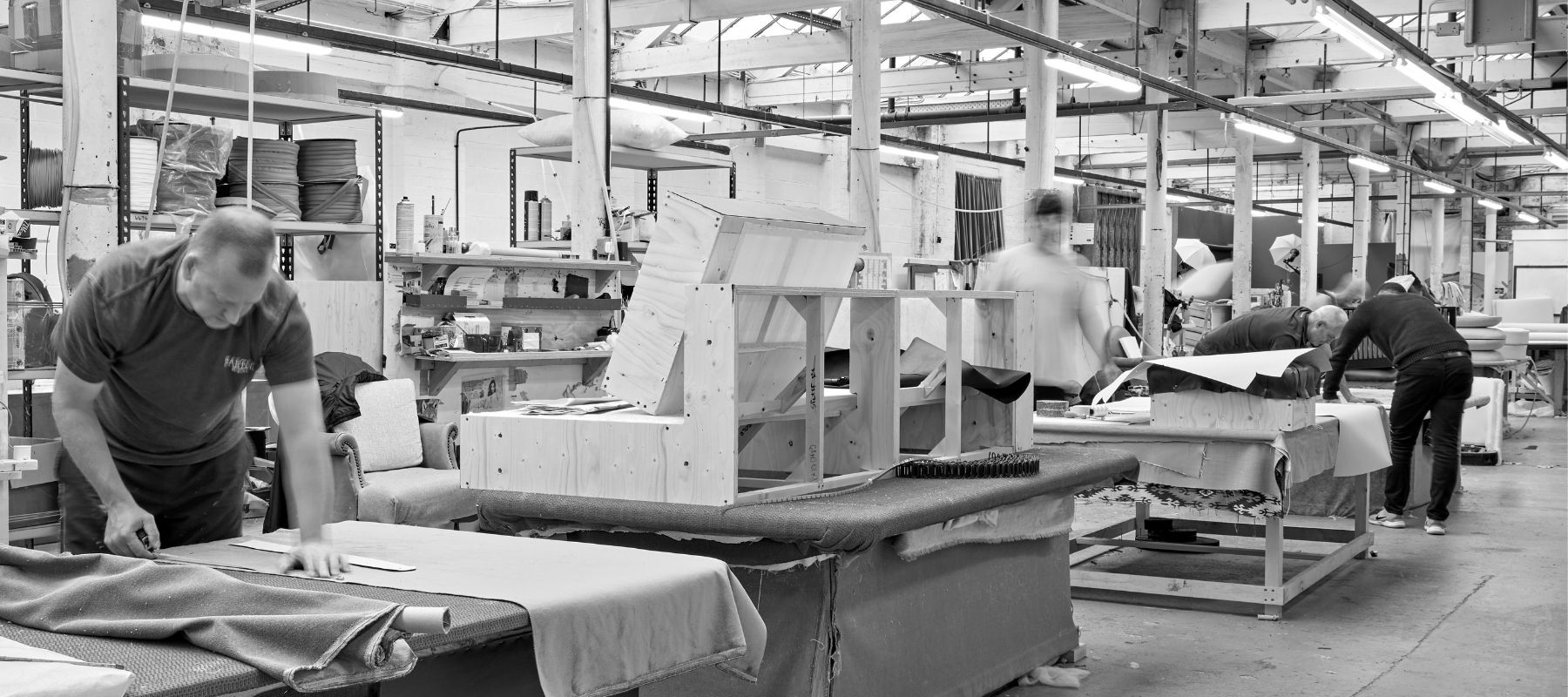 Barton Bespoke – Vacancies
We are always looking for talented and enthusiastic people to join our growing team, please contact Justine Hallam by sending your details and CV to justine.hallam@bartonbespoke.co.uk or call her directly on 07809 408437
CURRENT JOBS
At Barton Bespoke Furniture we are manufacturers of prestigious handmade upholstery supplying furniture specialists across the UK and worldwide. We are renowned for the quality of service and dedication we provide to our customers.
SEWING MACHINIST – URGENTLY NEEDED
£10 an hour – Full-time, Part-time
We are looking for Experienced Upholstery Sewing Machinists to join our Sewing team.
Your role will involve following detailed patterns and work instructions sewing a range of covers for chairs and sofas in fabric and leather ensuring pattern matching and highest quality standards are maintained. Previous experience in upholstery machining and sewing in a range of leather and fabric is essential.
Candidates must be able to work on their own initiative and to the highest quality standards.
Job Type: Ideally Full-time but Part-Time Considered depending on the number of hours
Additional remuneration and benefits:
Benefits:
Casual dress
Company pension
Discounted or free food
On-site parking
Private medical insurance
Sick pay
Wellness programmes
Schedule:
Experience:
Machinist: 5 years (Preferred)
SENIOR UPHOLSTERER
Job Type: Full-time
Salary: £12.00 per hour – Full-time
We require a first-class experienced upholsterer to join our business and the growing team.
You will be responsible for upholstering high-quality bespoke furniture for both private and commercial clients.
The interview will require photographic examples of your work showing the range of your experience.
Barton Bespoke design and make one-off bespoke furniture in partnership with our clients and are renowned for the quality of work, attention to detail and customer service.
We are now looking to recruit an organised and experienced Upholsterer on a full-time basis to join our lovely team. It's imperative the person enjoys working to exacting standards and takes pride in the quality of their work. Applicants must have the drive to maintain the integrity of the business and work hard to produce the best for our clients.
You will be responsible for:
As an upholsterer, you will with our close-knit team, upholstering bespoke furniture such as chairs, benches, sofas, headboards, and fitted goods. Using both traditional and modern techniques.
Your job could involve any of the following:
Fixed upholstery, traditional, modern upholstery, cushions and loose covers
Estimating fabric quantities, advising on fabrics, preparing patterns and templates cutting out fabric and making cushions
Working to deadlines whilst maintaining high quality.
Planning the work and estimating costs
Fixing webbing and springs
Adding trimmings like piping, fringing and buttons
Keeping your working area, and department, clean and tidy and organised in line with H&S requirements
Working overtime if needed.
We are looking for these skills:
5+ years proven upholstery experience
Proactive and positive attitude.
Able to problem solve and being solutions-oriented
Understanding of brand requirements
Proactive and self-motivated (working independently is key)
Be able to communicate at all levels from the shop floor to management and clients.
Potential to teach – if you have taught before or are interested in teaching upholstery. Not essential.
Be able to work on large projects as well as small intricate pieces. Both independently and within a team.
You must have a keen eye for detail and produce an outstanding finish.
Sewing skills preferable
Someone who is happy to fit on site
Making and cutting patterns
Someone who can work under pressure
The ability to read/understand CAD and technical drawings
Has an understanding of wooden frames
Good knowledge of soft covers and leathers
Safety awareness
2 References required on the application
Trial on the same day as the interview may be required
Full-time availability required